Anthony's Corner-
Lake Underhill School Manager
Summer is in full swing! The school year is right around the corner and we are signing up many students already for "back to school".
What should you do over the summer though? The school year, quite often, causes many students to slack off in their practice. That's why the summer is a wonderful time to get in that extra practice and push yourself to the next level. Without the stress of homework and exams try to take a little more time each week to really perfect those hard sections of pieces you've been working on. Even a small amount of thoughtful practice will show a world of difference in your playing to your instructor. You'll be able to reap the benefits by advancing your playability much more quickly, this in turn will allow you to play vastly more intricate and interesting pieces.
Summer is also a great time to explore new music. Studying different styles of music offers a multitude of benefits: increasing your ability to read, expanding your understanding of stylistic chordal structures, and increased playability just to name a few.
With so much free time many students also try out new instruments for the summer. Moving between instruments gives a student a better understanding of the experience of other performers. Very often musicians view and approach a piece in drastically different manners simply because they work with a different instrument. By picking up another instrument you get a chance to understand how to better communicate and work with other musicians. The benefit for those students with an interest in composing their own music lies in the fact that playing another instrument gives you a greater insight of plausible playability. More often than not, pieces composed by individuals that don't play the instrument they're writing for aren't actually capable of being played.
As always, we would like to wish all of you a fun and safe summer. If you're going to be traveling and are not withdrawing for the summer let us know beforehand so we can reschedule your appointments.
Lake Underhill Summer Student of the Month - Anna Haralampiev!
Anna Haralampiev is 8 years old, and she has been studying piano, under Ms. Debbie Love, for almost 3 years. Her favorite composer is Beethoven, and her favorite piano piece to play is "Gypsy Dance by Firelight" by Nancy Faber. Recently, Anna competed in the Junior Convention of the Florida Federation of Music, where she received an honorable mention in the Solo category. Anna's other interests include reading fiction, martial arts, and building with Legos. She also enjoys playing with her friends and with her two cats. She is grateful to Ms. Debbie Love for her dedication, guidance, and kindness.
Avalon Park Summer Student of the Month- Justin Del Castillo!
Justin developed an interest in music at the age of two years old. He would often dance and sing along to songs on the radio. At the age of three he showed an interest in playing the guitar; however, it wasn't until the age of 5 that he became serious about playing piano. He joined the Avalon School of Music at that time. He practices the piano every day and works hard on learning his songs. He loves to perform and pose for camera. His favorite pastimes are coloring, listening to stories and writing. Thank you to the Avalon School of Music for supporting Justin's musical interests.
Teacher Spotlight - Jahi Nelson - Guitar, Bass and Drums!
Jahi Asad Nelson was born in the Bronx New York. He moved to Queens where he was raised and started playing guitar at age 12 after hearing "I Want To Hold Your Hand" by the Beatles. Shortly after he began playing bass at 13 years old.
Over the years Jahi has worked with a variety of artists in a variety of styles. He's recorded with Outkast and Professor Griff (Public Enemy), toured with 7th Octave and Public Enemy 2005 Warped Tour, and opened for Travis Barker, The Offspring, Avenged Sevenfold and Thrice.
Influences include - Jimi Hendrix, The Beatles, Rush, Zeppelin, The Who, Rage Against the Machine, Marcus Miller, Jaco Pastorius, Randy Rhoads, Eddie Van Halen, Jake E Lee, Victor Wooten.
He started teaching private guitar lessons in New York and later moved down to Atlanta. When asked about his experience teaching he says, "I am very proud of my students and I truly appreciate all of their continued efforts and I strongly support their promising futures." He came to the Avalon School and Music Center about 9 years ago and has been teaching with us since. As our Guitar Department Director he's available at both the Avalon and Lake Underhill location several days out of the week for private lessons. If you're looking for an exceptional guitar instructor then Jahi would be a great fit!
Share the love of Music with others you may know -New Students that you refer can receive 25% off their first month!

New Students bring this coupon in and receive 25% off your first month of regular tuition!

Offer Expires: Aug. 31, 2013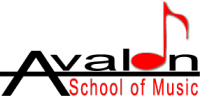 In this Issue
Anthony's Corner
Upcoming Events
Student of the Month
Spotlight on Teacher
Pet of the Month
Share the News
Practice Tips
UPCOMING EVENTS
Labor Day Sept - Schools will be closed
The Kolbrich Cats, Ginger and Jasmine.
These two have been family pets since the school first opened back in 2003 at the Kolbrich home in Avalon Park. Both are primarily inside cats, but when they come out to the lanai, they go into extreme hunting mode and heaven help you if you are a lizard or other small critter! They are both affecitionate and much loved by the family. Both cats are very healthy and take pride in their own hygene and apprearance. Jasmine in particular keeps Julianna company all night long and watches over her night after night! They are truely wonderful pets and the Kolbrich's are blessed to have them in their lives.
Got a Pet you love? Send us their pic and bio and we'll post in our upcoming newsletter to: info@avalonmusiccenter.com
SHARE THE NEWS
If you would like to share upcoming events, great information, or anything that would be of general interest to other students and parents, please feel free to submit it for possible newsletter publication to: info@avalonmusiccenter.com
Are you getting your Perkville Points?
Our Schools offer a unique rewards program that is free join. It's called Perkville, and every time you take a lesson, gives us Social Love on Facebook, Twitter, or refer a student to us, we shower you with reward points that can be used for things like extra lessons and some retail items.
It's easy to join, just stop by our front desk and ask for more details( you also may have received an e-mail to "opt in". It's a great deal and a special "thank-you" to all our students!
Practice Tip of the Month!
First Learn to Practice by Tom Heany (excerpt)
First, Learn to Practice is a book about how to practice a musical instrument – after all, if you want to learn how to play guitar (or any other instrument), you have to learn how to practice the guitar. It's suitable for all musicians – professionals and amateurs, students and beginners, adults and kids. Whether you play in a concert hall or your own basement, First, Learn to Practice can show you how to get the most pleasure, and the most progress, out of your practice time.
Equal parts philosophy and nuts-and-bolts, First, Learn to Practice offers simple, straightforward concepts that are easy to understand and apply.Read more
To learn more, you can pick up this book at our front desk, it's only $10.99 + tax and is loaded with great ideas!
Check out our Rock Shop Band Videos! Original Songs co-written and produced by the students and Rock Shop Instructor Tavie Basarich